Rules & PoliciesHome » Campground Information » Rules & Policies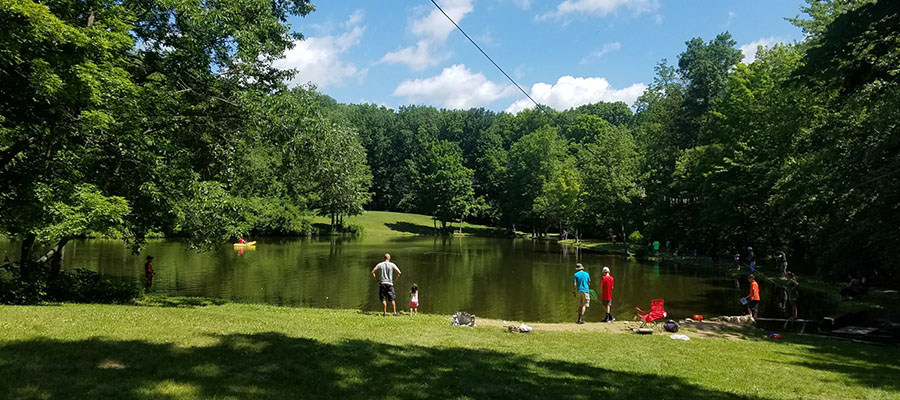 Kymer's Camping Resort is a family oriented campground. Please review the following policies and share them with your family members and guests. Our goal is to provide a clean, safe and enjoyable atmosphere for all campers.
---
IN CONSIDERATION FOR OTHERS:
• Quiet hours: from 11pm to 8am - NJ Law, No Music or Loud noise
• All campfires out by 12:30am
• No loud music, excessive noise or disorderly conduct
• Children ages 17 and under are to be supervised by an adult/guardian at all times
---
FOR YOUR SAFETY:
• Please supervise children at all times around water areas
• Do not leave campfires unattended
• Do not move fire rings or tables
• Only bathing suits may be worn in the pool/hot tub
• Life jackets must be worn at all times while on the lake
• No smoking or glass containers are permitted inside pool/hot tub areas
• Children under 16 years old must be accompanied by an adult at all times while at the pool
• Children under 17 years old must wear a helmet when riding their bicycles, scooters, skateboards or roller blades 
 - NJ Law - and no riding after dark
• Fireworks, firecrackers, explosives or weapons of any kind are not permitted
• Please keep your campsite clean as well as the recreation areas
• No cutting trees or vegetation
---
FOR YOUR CONVENIENCE:
Available at the Camp Store: Basic food items & Toiletries - Snacks & Sweets - Firewood - Ice - Fishing supplies & Bait - Souvenirs
Propane tank refilling
Coin-operated Laundry Machines
Free Wi-Fi hotspot in pavilion and pool area
---
Office & Camp Store:  Open from 8am to 10pm Friday & Saturday, 8am to 9pm Sunday thru Thursday.  In the Spring and Fall, we close early.  Security gate closes when the office closes.
Guests: Campers are responsible for registration, payment and behavior of their guests. Guests must register and receive a pass before entering the campground. Guests must check-out by 10 pm. Management reserves the right to limit the number of guests.  
Pets: Pets are welcome family members for those joining us with their own trailer or tent. For the courtesy of others who may have allergies, we do not allow pets in our rental units, unless you request a designated pet-friendly cabin rental. If your pet is joining you for your stay, please observe the following:
• Clean up after your pet
• Do not leave your pet unattended
• Keep on a non-extendable leash, no more than 6 feet and under control at all times
• Maintain a license and all required shots with documentation to be available upon immediate request
• Anyone disobeying  pet policy rules will not be allowed to walk their pets
• Camper agrees to reimburse and/or indemnify the campground for any personal injury or property damage caused by the actions of his/her animal
Lake/Fishing: Our lake is stocked with trout and bass. No swimming in the lake.
Kayak & Corcl Rentals: Available at the office. Each person must wear a life jacket at all times while on lake.
Swimming Facilities: Open from Memorial Day Weekend through Labor Day. No Lifeguards on Duty.  Children under 16 years old must be accompanied by an adult. No swimming alone.  Available for use only during hours posted.  The swimming area shall be closed when the owner or manager is not on the premises.
Firewood: For your convenience, firewood is available in the camp store.  Due to environmental consideration, firewood may not be brought into the campground.
Bicycles/Scooters/Skateboards:  All children under 17 years old must wear safety helmets - NJ law. Hoverboards and electric or gas scooters are not permitted.
Motorbikes: Motorbikes or non-registered motorcycles are not permitted. No mini bikes, ATV's, go-carts or motorized scooters may be ridden or stored on resort.
Vehicles: No more than one car per campsite. Additional cars must be parked in parking lot. Only licensed drivers may operate a vehicle on resort property. All NJ motor vehicle laws apply.
Golf Carts:  Electric golf carts are allowed for an additional fee.  A signed waiver and certificate of insurance must be received in office prior to bringing golf cart onto resort property.
Electric hook-ups: To be used for lights only. Patio lights out at 11pm. No spot lights. No electric hot water heaters.
Alcohol: Alcoholic beverages are restricted for those 21 years and older and not permitted in the pool/hot tub areas
Gate:  Gate closes when the office closes.  Pincodes are available at the office to open gate after hours.
Please note that we reserve the right to evict, without refund, anyone violating these rules, destroying property, creating a disturbance, or engaging in behavior not suitable in a family campground (N.J.S.A 5:16-1,#2099).
---
RESERVATION CHANGES/CANCELLATIONS/REFUNDS:
NO REFUNDS
Cancellation fee of $15 will be deducted from payment for any cancellations or changes to original reservation
Credit will be issued to guest account if cancellation is 72 or more hours (3 days) prior to arrival date to be used towards a future stay expiring October 31 of the next season
No credit if cancellation is less than 72 hours of arrival date
No refunds or credit for inclement weather or early departure
Be sure of exact dates. All dates are considered guaranteed, and no reduction will be made for late arrival or early departure.
Prices subject to change without notice.
---
Disclaimer: The KYMER'S CAMPGROUND, INC., (hereinafter "Campground") does not warranty, impliedly or expressly, any service or facility at the Campground as set forth in any document or writing produced by the Campground. Such writings and/or documents are only for informational purposes and do not necessarily represent the state or condition of any facility. The Campground only pledges its best efforts and good faith in providing any facility and/or service. All facilities are subject to closing without notice and any facilities date of opening or availability is subject to change without notice.
Kymer's Campground, Inc. reserves the right to close any swimming facilities at any time due to bad weather, mechanical problems, water testing, or any other safety reason they feel needed.
Book By Phone
Call now for reservations at
973-875-3167
Now taking reservations for the 2023 season! Be sure to let us know if your celebrating a special event while staying with us!
---
Reservation Request
Specials
---
Mother's Day Weekend

May 10-12, 2024

Discounted Spring Rates apply for this Holiday Weekend

Father's Day Weekend Special

June 14-16, 2024




Join us for a weekend of fun and games for Dad's of all ages.

Weekday Special

Stay 3 nights during the week, and receive the 4th night FREE! 


Arrival Sunday or Monday

Use discount code WEB2024 when making your reservation.

No double discounts.  
Excludes weekends, holiday weeks and holiday weekends. 
Valid April 15- October 31

SPRING "Gas Saver Value Program"

Spring & Fall Campsites

Pay for 2 consecutive weekends
Receive 3rd consecutive weekend FREE
Includes $10/night on site fee with electric during the week
Valid 4/15/23 - 5/21/23 and 9/8 - 9/24
Limited campsite availability.  Not valid on rentals. One discount per family. No double discounts. Excludes Holiday Weekends.
$340 based on 2 Adults for 30EWS campsites ($500 savings value)
$320 based on 2 Adults for 30EW campsites ($450 savings value)
Children ages 4 & under - no charge
Ages 5-15 $20
Ages 16+ $40


Great place to camp! Go every year!
Activities every weekend.
Clean bathrooms. Nice private tent area.
Security keeps an eye out for ya. Friendly staff.
- Neal DiCristo


thank you Kymers and all the staff for the excellent customer service, we enjoyed our memorial day weekend!
- Melinier Rodriguez


Fantastic experience. The people who camp here are wonderful, great vibes all around. Premium cabin rental was a great fit for us. Caught 3 fish, a couple trout and a large mouth bass. Very family friendly with a lot of activities available for free including kayak rentals. We will definitely be back!
- Jaime Falco


1st time camping @ Kymers had an awesome time very clean grounds,personable & attentive staff bathrooms were clean & maintained regularly. They also had activities & presentations for the kids. On our arrival another camper hooked a cable line on their way to their site staff had it repaired that day. Can't say enough about our experience we will definitely be back.
- Shane McKinney
May 2017

Absolutely love everything about this campground! Private tent sites, clean facilities and property, awesome family activities and great prices! Will return here for every local camping trip!!
- Bryanna Waldron


My family and friends always have a wonderful time. The kids enjoyed their weekend to the fullest!
- Roxana Elizabeth


Kymer's is our favorite getaway! The campgrounds are very well kept, the staff is polite and friendly, and there are a lot of games and activities to keep the children busy. The individual sites are very well maintained as are the shower and bathroom facilities.
- Penny Schneider Clark