General InformationHome » Campground Information » General Information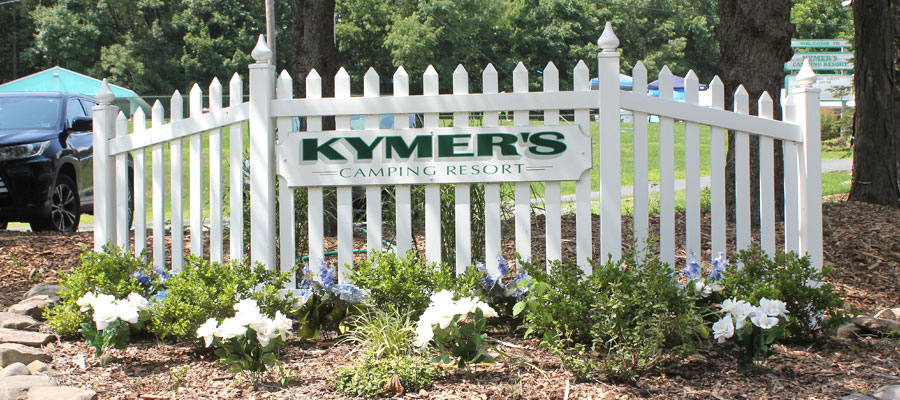 Office & Camp Store:
Summer Hours
Friday & Saturday: 8am - 10pm
Sunday - Thursday: 8am - 9pm
Spring & Fall Hours
         Friday: 9am - 10pm
         Saturday: 8am - 10pm
         Sunday: 8am - 6pm
         Monday - Thursday: 9am - 5pm
In the Spring and Fall, we close early. Check with the office for office and check in hours. Security gate closes when the Office closes.
---
Kymer's Camping Resort is a 200 acre camping retreat loacted in the Kittatinny Mountains of New Jersey. We are open from April 1st - thru October 31.
We offer various types of tent and trailer campsites and for those who do not own camping equipment, but would like to enjoy the camping experience - we offer cabin and park model rentals.
We have something for everyone to enjoy!
Book By Phone
Call now for reservations at
973-875-3167
Now taking reservations for the 2022 season! Be sure to let us know if your celebrating a special event while staying with us!
---
Reservation Request
Specials
---
Easter Weekend

Offer valid April 15-17, 2022

Discounted Spring Rates apply for this Holiday Weekend

Mother's Day Weekend

May 6-8, 2022

Discounted Spring Rates apply for this Holiday Weekend

7th Night Free!

Camp 6 consecutive nights and get the 7th night FREE!

Offer valid: April 1 – October 31, 2022

Celebrating a Special Event?

If you are celebrating a birthday or special event when visiting Kymer's - be sure to let us know when making your reservations!


Kymer's is our favorite getaway! The campgrounds are very well kept, the staff is polite and friendly, and there are a lot of games and activities to keep the children busy. The individual sites are very well maintained as are the shower and bathroom facilities.
- Penny Schneider Clark


thank you Kymers and all the staff for the excellent customer service, we enjoyed our memorial day weekend!
- Melinier Rodriguez


1st time camping @ Kymers had an awesome time very clean grounds,personable & attentive staff bathrooms were clean & maintained regularly. They also had activities & presentations for the kids. On our arrival another camper hooked a cable line on their way to their site staff had it repaired that day. Can't say enough about our experience we will definitely be back.
- Shane Mckinney
May 2017

My family and friends always have a wonderful time. The kids enjoyed their weekend to the fullest!
- Roxana Elizabeth